Make-up Lesson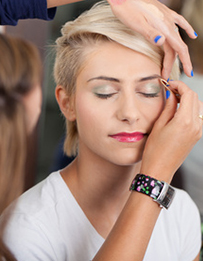 Have you been applying your make-up the same way for years?
Or, maybe you've never worn make-up and you'd like to start? Learn how to look gorgeous and flawless with a personal make-up lesson. Discover how to enhance your face shape and features quickly and confidently.
How it works
To ensure that you get to grips with the techniques and applications we show you, you'll be taken through the make-up application process slowly. We'll give you time to see exactly how we apply the products and the various shades that will flatter you. There's plenty of time to discuss different looks and ask questions and so that you remember everything, we'll record all our advice in your personal beauty workbook.
Comments are closed.